Cleveland set new NBA record in stunning display
Comments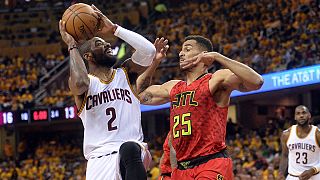 The Cleveland Cavaliers set a new NBA record by scoring 25 three-pointers in their 123-98 win over the Atlanta Hawks.
The win takes them 2-0 up in their Eastern Conference semi-finals.
LeBron James scored 27 points, and JR Smith 23 as the reigning Eastern champions never looked like relinquishing their lead.
As the long shots went in the crowd wound up as the records tumbled. The first to go was the half-time record of 12 three-pointers, set just ten days ago by reigning champions Golden State.
In all 18 big hoops were bagged in the first half.
All that heavy shooting must have tired out the stars' arms, because Cleveland played the entire final quarter with their starters on the bench. They had earned it with a dream performance that meant that the Hawks could never make up the lost ground.
The Hawks lick their wounds in Atlanta, waiting for home advantage in Game three.