Wildfire triggers emergency evacuation in Alberta
Comments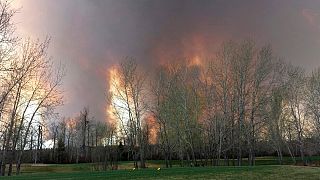 Alberta in western Canada is racing to evacuate thousands of people as a wildfire burns out of control.
At risk are the 80,000 residents of the city of Fort McMurray, in the heart of Canada' oil sands.
It's thought the blaze started due to exceptionally dry conditions after a mild winter with lower-than-average snowfall.
Thousands flee Fort McMurray in the largest fire evacuation in Alberta's history #newshttps://t.co/7D2f35b7NFpic.twitter.com/Iu1t0ZMUk4

— TheStarPhoenix.com (@TheStarPhoenix) May 4, 2016
Fort McMurray resident Kaybre Peats described what happened:
"The fire jumped the river. We had basically two minutes to get home, grab all our stuff and we had to leave. I'm very scared and very nervous because I don't know if I'll have a home to come back to. But i have my dog and my family and that's all I need."
The authorities have appealed for help from neighbouring provinces to lend a hand in airlifting vulnerable residents.
Visual update on the fire in #FortMcMurray Alberta and a forecast of what's to come: https://t.co/z9qZuCL9ZUpic.twitter.com/rnZ2D4mE7n

— The Weather Network (@weathernetwork) May 3, 2016
Alberta's Forestry Division says nine air tankers, more than a dozen helicopters and more than 100 firefighters are tackling the blaze.