Venezuela opposition collects signatures in bid to oust President Maduro
Comments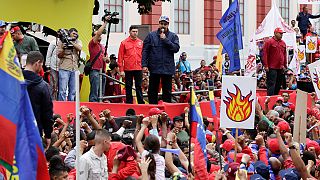 Venezuela's opposition says it has delivered 1.85 million signatures to the country's elections authority in a bid to seek a recall referendum against President Nicolas Maduro.
Food and medicine shortages, rampant inflation and violent crime and numerous water and power cuts have stoked anger against the president.
The electoral body must now validate the signatures before the opposition can collect another 20 percent, or around 4 million signatures, before a vote can finally be held.
Maduro has sworn he will not be forced out before his term expires in 2019 and accuses the opposition of seeking a coup against him to destroy the socialist legacy of his predecessor, the late Hugo Chavez.