Solar Impulse aircraft lands in Phoenix, Arizona
Comments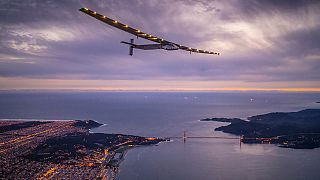 Solar Impulse has arrived in Phoenix, Arizona after successfully completing the tenth leg of its record-breaking bid to circle the globe.
The solar-powered plane had left Mountain View, California, some 16 hours earlier, travelling just over 1,100 kilometres.
The zero-fuel aircraft will now make its way across the U.S. Midwest before flying to New York.
After that, the plane's Swiss team will prepare for the big Atlantic crossing to Europe before finally finishing in Abu Dhabi, where the journey began in March last year.
Solar Impulse's project co-founder Andre Borschberg was at the controls for the latest leg. He alternates with fellow pilot Bertrand Piccard in their campaign to build support for cleaner technologies.