King of Spain dissolves parliament
Comments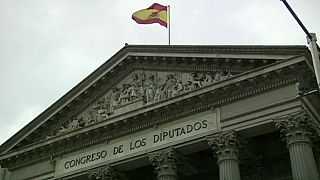 I hope the last four months have helped us learn a few things
King of Spain dissolves parliament
New election called for June 26
Talk is already of alliances
High rate of abstention predicted
The King of Spain has dissolved parliament and called a parliamentary election for June 26.
It is the first time the country has re-run an election.
It has been in a political stalemate since the previous vote last December.
"This is the first time since we became a democracy that the parliament has been dissolved because we have not been able to reach an agreement of the majority necessary to form a government. I hope the last four months have helped us learn a few things," said the President of the Spanish Parliament, Patxi Lopez.
What happened in December?
The new ballot follows four months of fruitless coalition talks between Spain's four main parties in the wake of the last election.
The conservative People's Party (PP) of acting prime minister Mariano Rajoy won the most votes but lost its majority.
The election marked the end of the dominance of the two traditional parties, the PP and the Socialists.
Their power base was eroded by the anti-austerity newcomers Podemos, who may team up with the far-left Izqueirda Unida.
The centrist Ciudadanos may hold the balance of power.
Will it be different this time?
It is not clear.
Polls suggest the re-run may also end in stalemate.
There are also predictions of a rise in abstentions. Experts say this could play in the favour of the traditional parties like the PP and Socialists.