Washington DC chemical leak after freight train derails
Comments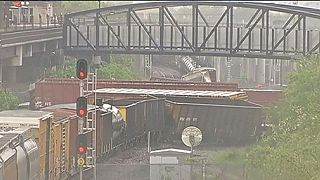 Emergency teams in the U.S. capital have successfully sealed a leak on a freight train after it derailed on Sunday.
Fourteen wagons on the CSX train overturned in Washington D.C. spilling hazardous liquid, including sodium hydroxide.
No evacuation orders were issued and nobody was injured in the accident.
The cause of the derailment is still unclear.