Reckitt Benckiser apologises over South Korea deadly disinfectant
Comments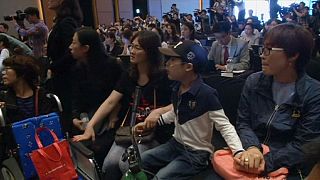 No sooner had the company boss in South Korea taken the stage to apologise, than he was promptly struck by an angry relative of one of the firm's victims.
The British-based consumer goods giant Reckitt Benckiser has admitted its disinfectant caused death and injury – including to a 13-year-old boy, present at the news conference in Seoul – who now uses an oxygen tank to breathe.
The head of the company's Korean and Japanese branch acknowledged the firm was five years late in accepting responsibility.
Almost 100 deaths have been linked to the humidifier products, not all marketed by the company.
"We do not accept the apology from Oxy," said Lim Heung-Kyu, a campaigner from the Asian Citizens' Centre for Environment and Health, referring to Reckitt Benckiser's South Korean arm.
"A boycott against Oxy has spread like wildfire in South Korea, and we judge that today's apology is nothing more than an attempt to prevent it."
Sales of the sterilisers, a liquid added to the water of humidifiers, were suspended by the government in 2011.
South Korea is thought to be the only country where the products were sold.
The company says it's setting up a multi-million dollar compensation fund for victims and their families.