Five global problems to highlight on International Workers' Day
Comments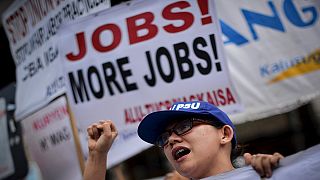 With many countries across the world today downing tools to celebrate workers and labourers, here we look at five problems that should be hightlighted on May 1.
Modern-day slavery
Nearly 21 million people worldwide – or three in every 1,000 – are trapped in jobs they were coerced or deceived into taking and cannot escape, according to a report by the International Labour Organization (ILO).
This forced labour generates $150 billion (133 bn euros) per year in illegal profits, add the ILO.
More than half (56 percent) of forced labourers are based in the Asia-Pacific region, followed by Africa (3.7m) and Latin America (1.8m).
Earning enough to live above the poverty line
Just over one billion people worldwide live on less than $1.25-a-day (1.11 euros), according to latest figures from the World Bank.
That's down significantly from 1981, when there was 1.93 billion below the official poverty line.
China, according to the World Bank, accounts for much of this progress, with 753 million people moving above the poverty line between 1981 and 2011.
Unemployment
Globally, there are currently 201 million people out of work, a figure the ILO says will rise to 212m by 2019.
It adds 73m youths are looking for work worldwide, warning a "scarred generation" faces a "dangerous mix of high unemployment, increased inactivity and precarious work in developed countries" and "persistently high working poverty" in the developing world.
In Europe, around half of those out of work (aged 15-74) are long-term unemployed, according to Eurostat. In Greece 73.5 percent of those seeking a job have been out of work for more than 12 months.
Gender pay gap
Women earn on average between 30 and 40 percent less than men for the same work, according to WomenAid International.
The income of female workers will trail behind men's for another 70 years, if the current rate of progress is maintained, according to the ILO.
Child labour
Sub-Saharan Africa, proportionally, is the worst region for child labour, with 59 million or 21 percent of the child population in work, report the ILO.
The Asia-Pacific region has 78m youngsters – 9.3 percent of child population – working.
The number of children in work worldwide has dropped by a third since 2000, from 246m to 168m.