Norwegian helicopter crash victims all presumed dead
Comments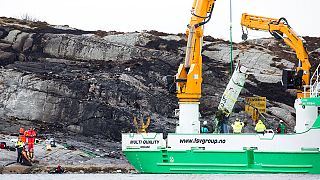 All 13 people on a helicopter that crashed off the Norwegian coast on Friday are presumed dead.
Dramatic images showed the detached rota blade still spinning as it fell.
Plumes of smoke rose from the spot where the aircraft crashed into the North Sea in an area dotted with small islands.
Rescue services had recovered 11 bodies by late Friday evening with two others still missing.
The helicopter was ferrying the passengers from a Norwegian oil platform towards the city of Bergen, an important hub for the oil and gas industry in the region.
The Norwegian Prime Minister, Erna Solberg, offered her sympathies to the victims' families:
"To all those who feel anxiety and insecurity, loss and pain – you should know that you are not alone in your grief. This is a sad day for all who work in the Norwegian oil and gas business."
Most of the victims were from Norway but there was at least one British and an Italian among them.
The Norwegian authorities temporarily grounded the type of helicopter that crashed but said it was still too early to establish how the accident had happened.