North Korea: US citizen given 10 years of hard labour for spying
Comments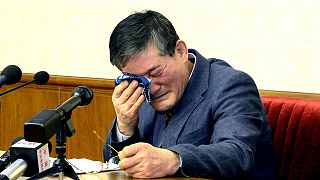 North Korea sentenced a naturalised US citizen to 10 years of hard labour on Friday for spying and subversion.
China's Xinhua news agency reported the verdict against Kim Dong Chul, handed down by the Supreme Court in Pyongyang.
Arrested in October, the 62-year-old was put before cameras in the isolated state a month ago.
In a highly choreographed confession, he said he had stolen military secrets.
North Korean media said he admitted "unpardonable espionage" under the direction of the US and South Korean governments and deeply apologised for his crimes. It is not known what role coercion may have played in this confession.
Born in the South, Kim's imprisonment follows a longer sentence given to another American by the North, as tensions on the Korean peninsula escalate.
Otto Warmbier, was given 15 years of hard labour in March for trying to steal a propaganda banner.
WATCH: In N. Korea, a 21 year old American student was sentenced to 15 years of hard labor: https://t.co/XkMe36dKOjhttps://t.co/hmgFtR8ujV

— Good Morning America (@GMA) 17 mars 2016
North Korea has detained Americans in the past to extract high-profile visits from the United States, with which it has no formal diplomatic relations.
Pyongyang has tightened security ahead of the first ruling party congress in 36 years which will begin on May 6.
It has also intensified its pursuit of nuclear weapons and ballistic missiles since its fourth nuclear test in January.