Angry protest outside Trump rally in California
Comments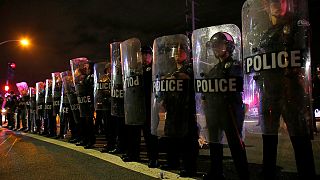 There was a turbulent reception for Donald Trump in southern California on Thursday with some 20 demonstrators arrested outside a campaign rally by the Republican frontrunner for the US presidential election.
Demonstrators smashed the window of a police squad car, marched in protest and blocked traffic as police in riot gear tried to disperse the crowd in Costa Mesa.
The Orange County Sheriff's Department reported the arrests on its Twitter account, saying that there had been no major injuries.
#OCSDPIO Post Trump Rally Protest over. Approx 20 arrests by Costa Mesa PD. No major injuries. Crowd dispersed by 11pm. No further updates

— OC Sheriff, CA (@OCSD) 29 avril 2016
A Los Angeles Times reporter posted a photo on Twitter of a man wearing a Trump T-shirt with a bloodied face.
Trump supporter got hurt. pic.twitter.com/W7t1WDQOGM

— Matt Pearce (@mattdpearce) 29 avril 2016
A third of the population of Costa Mesa are Hispanic or Latino. So the US presidential hopeful's platform of deporting illegal immigrants and building a wall along the Mexican border was always going to be a hard sell.
Trump is trying to get enough delegates to secure the Republican nomination outright and avoid a contested convention in July. A strong primary win in California for the billionaire on June 7 could thrust him above the delegate count needed.
Trump himself seemed happy with the campaign rally, which he said was attended by 31,000 people.
Thank you Costa Mesa, California! 31,000 people tonight with thousands turned away. I will be back! #Trump2016pic.twitter.com/4P0tzvZn0e

— Donald J. Trump (@realDonaldTrump) 29 avril 2016