Air strike on Kunduz hospital 'not a war crime' says US military report
Comments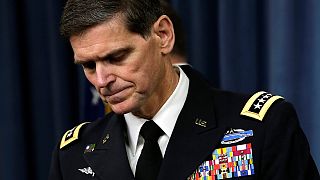 A United States military investigation has concluded that a deadly US air strike on an Afghan hospital last year did not not amount to a war crime.
Forty-two people were killed and 37 others wounded in the strike that destroyed the Kunduz facility run by the charity Doctors Without Borders.
A top US general said it was caused by a number of factors, including human errors.
"The investigation concluded that certain personnel failed to comply with rules of engagement and the law of armed conflict. However, the investigation did not conclude that these failures amounted to a war crime," said Army General Joseph Votel, Commander of US Central Command. "The investigation found that the incident resulted form a combination of human errors, process errors and equipment failures. And that none of the personnel knew they were striking a hospital."
Doctors Without Borders said it will examine the US report and determine whether or not it answers the many questions that remain outstanding seven months after the attack.
Kunduz: What was lost – a doctor's story. https://t.co/C89×26Ri9R

—

MSF

UK (@MSF_uk) April 29, 2016
Army Gen. Joseph Votel says loss of SAT radio connection led #AC130 crew 2 "mistakenly" target #Kunduz hospital pic.twitter.com/aoqMXJKfbU

— JJ Green (@JJGreenWTOP) April 29, 2016