South Caucuses regional tensions result in ceasefire violations
Comments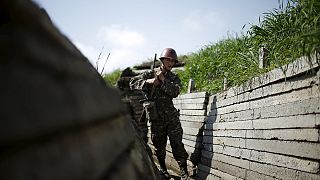 Tensions in the South Caucuses region erupted in to violence on Thursday.
Azerbaijan claimed one civilian was killed and six wounded by gunfire in the village of Chemenli. Azeri authorities claim the attack was carried out by the breakaway Nagorno-Karabakh region.
A government source said the injured people were taken to hospital in a serious condition.
Azerbaijan's ministry of defence accuses the Armenian-backed region's forces of violating a recent Moscow-brokered ceasefire over a hundred times using rockets and heavy artillery, adding that it had been forced to fire back.
Officials in Nagorno-Karabakh in turn accused Azeri forces of shelling the village of Madagis.
They said a video published on their website was from surveillance cameras fixed in the village, and showed shells exploding that they claim were fired from Azerbaijan.
Nagorno-Karabakh is a mountainous region that falls within Azerbaijan's borders but is populated mainly by ethnic Armenians. In the early 1990s rebels fought a war against the Azeri authorities to establish effective control over the region.
A ceasefire in 1994 has largely stopped the violence until now but never really resolved the underlying dispute.