Russia strikes gold in men's team sabre in Rio
Comments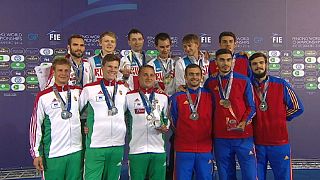 Victory for Russia in the fencing World Team Championships in Rio.
The favourites came out on top in the men's team sabre, after beating Hungary 45-38 in the gold medal match.
The Russians showed no signs of weakness, as they battled it out in the Olympic test event – which followed the Rio Grand Prix.
Reigning individual men's sabre champion Alexey Yakimenko sealed the winning point for Russia against Aron Szilagyi, the world number three.
Iran put in their best ever world championship performance, but it wasn't enough to clinch bronze – which went to Romania.