Brother of San Bernardino killer arrested on marriage fraud charges
Comments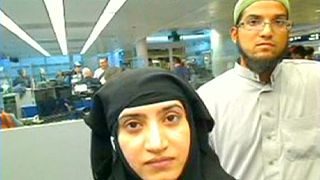 Brother, wife and wife's sister arrested
Charged with conspiracy and fraud
Arrests not directly linked to terrorism
FBI agents have arrested the brother of the man who carried out a mass shooting in California in December.
-+T oday's arrests open a new phase in the zc vnm/process
Two women have also been arrested in connection with the attacks in San Bernardino.
The arrests are in connection with allegations of marriage fraud.
The charges are:
Syed Raheel Farook (31)
Conspiracy
Five year maximum sentence if convicted
Tatiana Farook, wife (31)
Conspiracy
Five year maximum sentence if convicted
Mariya Chernykh, wife's sister (26)
Fraud
x2 counts of making material false statements to federal agents
25 year maximum sentence if convicted
Could be deported to Russia if convicted
What have they been arrested for
Brother of San Bernardino shooter Syed Rizwan Farook arrested on marriage fraud charges https://t.co/8n8bv8tGDj

— Newsweek (@Newsweek) April 28, 2016
US prosecutors say the charges are of federal conspiracy, marriage fraud and making false statements.
Officials say the charges follow an immigration-related investigation that began with the inquiry into the massacre.
It is alleged that Enrique Marquez, a friend of Syed Rizwan Farook, agreed to marry Chernykh, a Russian citizen, in 2014.
This would then allow her to apply for permanent residence in the United States.
She submitted paperwork claiming she lived with Marquez. However, she lived elsewhere with her child and another man, it is alleged.
Photos had been staged to make them look like a couple. A joint bank account had also been opened.
What happened at San Bernardino?
San Bernardino shooting: Pakistani wife had pledged allegiance to Islamichttps://t.co/EkwMhbLBPKpic.twitter.com/fXPxLK7T2P

— NanoNews (@NanoNewsNetwork) April 17, 2016
Syed Rizwan Farook and Pakistan-born Tashfeen Malik killed 14 people at a holiday party on December 2nd.
They died in a shootout with police hours after the mass shooting.
It was the deadliest attack of its kind on US soil since September 11th, 2001.
Investigators say they were inspired by Islamic extremism.
Are these latest arrests linked to terrorism?
No.
Police say the three people arrested on Thursday are not charged with any crimes related to terrorism or the December shooting.
Enrique Marquez Jr., friend of San Bernardino shooter Syed Rizwan Farook, due in court today https://t.co/9Z71gGzRc4pic.twitter.com/COo0wiWIpo

— Chicago Tribune (@chicagotribune) January 6, 2016
However, Marquez was charged on December 18 with conspiring with Syed Rizwan Farook in 2011 and 2012 to support a militant attack in Southern California that was never carried out.
He is also accused of buying weapons for the San Bernardino attack.
He has pleaded not guilty and is awaiting trial.
What they are saying
"Today's arrests open a new phase in the process of bringing to justice all individuals who allegedly committed crimes that were uncovered during our exhaustive investigation." – statement from US Attorney Eileen Decker