UK police chief suspended over Hillsborough football tragedy
Comments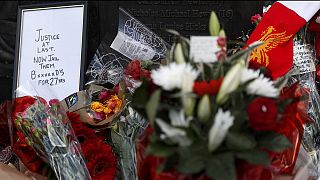 The head of the British police force accused of covering up failings that led to the death of 96 fans at the Hillsborough football stadium in 1989 was suspended on Wednesday (April 27).
The suspension of Chief Constable David Crompton of South Yorkshire Police came a day after an inquest jury concluded that the Liverpool fans who died in an overcrowded, fenced-in enclosure at the ground had been unlawfully killed, with police accepting catastrophic mistakes had been made.
"Those responsible must be held to account for 96 unlawful deaths and a 27-year cover-up," Andy Burnham, the opposition Labour Party home affairs spokesman who has long campaigned for "Justice for the 96", told parliament.
The Hillsborough tragedy changed the face of English football with banks of terracing and metal fences around pitches replaced by modern, all-seated venues.
However, families of the victims and survivors were forced to fight for decades to overturn original conclusions that the deaths were accidental and to combat initial police claims that drunken Liverpool fans without tickets had stormed into overcrowded enclosures.
The jury absolved supporters of any blame, and David Duckenfield, the police commander in charge at the match, admitted to the inquest he had lied about fans forcing a gate open, and acknowledged that his failure to close an access tunnel had directly caused the loss of lives.
Relatives along with Burnham and other lawmakers had said Crompton's role as the local police chief was untenable as lawyers acting for the force had repeated the discredited claims about the fans and so perpetuated a cover-up during the two-year long inquest hearings.
Alan Billings, the elected Police and Crime Commissioner for South Yorkshire, said he had no choice but to immediately suspend Crompton, who was not involved in the events in 1989, because of the erosion of public trust and confidence in him.
"No one should have to endure what the families and survivors have been through. No one should have to fight year after year, decade after decade in search of the truth," Home Secretary Theresa May told parliament.