Olympic flame handed over to Rio Games officials
Comments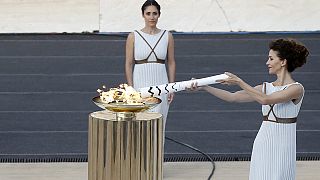 The Olympic Flame was handed over to organisers of this summer's Games in Rio de Janeiro on Wednesday during a ceremony at the marble Panathinaic stadium which hosted the first modern Olympic Games in 1896.
The flame was kindled at the 2,500-year-old Temple of Hera, the birthplace of the ancient Olympics, on Thursday before travalling across Greece for a six-day relay.
On Wednesday and with 100 days to go until the Games begin it was handed over to Rio Olympics officials.
It will land in Brasilia on May 3 having made a brief stopover in Switzerland to be presented at the United Nations office in Geneva.
Some 12,000 torchbearers will carry the flame through over 300 Brazilian cities ahead of the opening ceremony on August 5.
This year celebrates the 80th anniversary of the first torch relay which was held for the 1936 Berlin Olympics.