Mitsubishi scandal drastically hits Japanese orders
Comments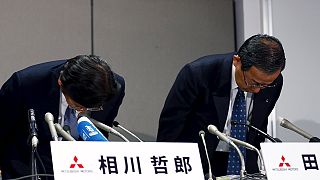 Mitsubishi Motors has said orders for its cars in Japan have fallen by 50 percent since it announced last week that it had cheated on fuel economy tests.
The company revealed the sales slump as it delayed issuing a profit forecast for the current financial year while it assesses the future impact of the scandal.
Company President "Tetsuro Aikawa:https://en.wikipedia.org/wiki/Tetsuro_Aikawa said: "We don't yet have an accurate understanding of the changes in domestic sales, but the amount of retail vehicle orders has halved since we made the announcement on the 20th of April."
He also denied Japanese media reports that he and chief executive Osamu Masuko plan to resign and take responsibility for the scandal.
"It's my responsibility and my mission to put the company on track to recovery. Beyond that, I haven't had a chance to even consider (the possibility of resigning)," Aikawa said. He called the reports "based on speculation".
Mitsubishi now faces huge payments, including for compensating drivers and returning government tax rebates for low mileage cars. It says it may have to approach its financial backers for assistance.
However Mitsubishi Motors said for now its financial position is strong and it sees no need for fresh funding.
The company has a history of scandals. Fifteen years ago it admitted systematically covering up customer complaints for more than two decades.
On another occasion its truck-making affiliate admitted to concealing information about potentially dangerous defects.
At that time it managed to get a bailout part-funded by other Mitsubishi companies.
Senior officials at firms in the Mitsubishi group have said it would be difficult for them to help the car maker this time, if needed, as they face their own financial squeeze.