Police chief suspended after UK football tragedy inquest findings
Comments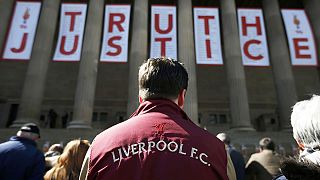 The chief constable of Britain's South Yorkshire Police service has been suspended one day after a jury found that police failures were to blame for the the death of 96 Liverpool football fans in 1989.
South Yorkshire's Police and Crime Commissioner Dr Alan Billings said he had no choice but to act "based on the erosion of public trust and confidence."
Earlier the British home secretary has hailed the "extraordinary dignity and determination" of those who campaigned for justice for the victims of the Britain's worst sporting disaster.
"The authorities that should have been trusted have laid blame and tried to protect themselves instead of acting in the public interest. But the families have never faultered in their pursuit of the truth. Thanks to their actions they have brought about a proper re-investigation and a thorough re-evaluation of what happened at Hillsborough."
She said prosecutions could follow if the UK's Crown Prosecution Service decided there is evidence to do so.
On Tuesday a jury found that police failures were to blame for the unlawful killing of ninety-six Liverpool football fans in 1989 at the Hillsborough stadium.
The tragedy happened at the FA Cup semi-final match between Liverpool and Nottingham Forest in 1989
The victims died inside an overcrowded, fenced-in enclosure at the stadium.
The front page of The Sun, which then blamed the tragedy on the fans, is now been criticised for ignoring the verdict.
Its sister publication, The Times, omitted the story from the first edition of the newspaper, but added it to later editions.
Liverpool…truth…and justice pic.twitter.com/bSDKBoZJkG

— alex thomson (@alextomo) April 27, 2016