Clashes erupt in Greek migrant camp
Comments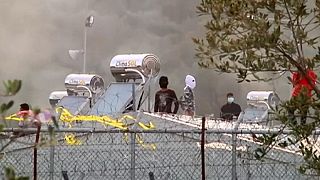 Clashes between migrants in a Greek detention camp and police erupted on Tuesday. Tempers flared after two ferries shipped the latest group of refugees back to Turkey under a controversial deal with the EU.
Witnesses said bins were set fire to and rocks and stones were thrown at police. About 200 youths broke through a partition in the camp.
Riot breaks out at refugee camp on Greek island of Lesbos https://t.co/MDgaKcEX9gpic.twitter.com/34M4gz7PCD

— Telegraph News (@TelegraphNews) April 26, 2016
Police said eight minors were slightly hurt in the scuffles.
Tensions have been simmering over conditions in the Moria compound which Pope Francis visited earlier this month. The camp holds about 3,000 people.
URGENT: Police teargas refugees in #Lesbos camp, Greece – reports https://t.co/MFBrrmApmVpic.twitter.com/4hXLc4UxFn

— RT (@RT_com) April 26, 2016
"The situation has become so incendiary in the camp to the point where they are talking about 600 people having taken control of the camp and who are scaring the other refugees that are inside, most of them women and children." said Dr. Piero Maldari, who is working with the NGO Rainbow.
Ferries carrying 49 migrants from the Greek islands of Kos, Chios and Lesbos reached the Turkish porttowns of Gulluk, Cesme and Dikili on Tuesday (April26) Most of the 13 people deported from Lesbos were Afghans. According to a government official none had requested asylum in Greece.
EU migration deal
Just over 340 people have so far been returned to Turkey since April 4 under the accord agreed with the European Union. The deal is intended to stem a human influx in to Europe – More than one million migrants reached the continent last year.
Under the agreement, those migrants arriving in Greece from Turkey after March 20 face being sent back if they do not apply for asylum in Greece or their application is rejected.
In return the EU will take in thousands of Syrian refugees directly from Turkey and reward Ankara with more money, early visa-free travel and progress in negotiations to join the bloc.
The European Commission says it has been formally reassured by Turkey that it will grant access to asylum procedures to all asylum seekers sent back from the bloc.