Hillsborough 96 were unlawfully killed, jury decides
Comments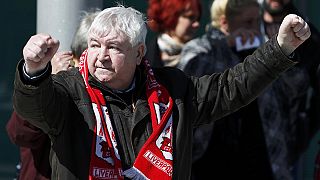 A inquest jury has concluded that 96 football fans who died at the 1989 FA Cup semi-final were unlawfully killed due to gross negligence manslaughter.
For the families who fought South Yorkshire Police for 27 years, the verdict represents a vindication.
The behaviour of the fans did not contribute to events that led to the death of the Liverpool supporters, the jury has ruled.
Jurors rejected a claim, long held by South Yorkshire Police, which sought to pin the blame on the fans.
Wrong then. Wrong now. Bernard Ingham. pic.twitter.com/3EC23gWZ6H

— Joseph Barton (@Joey7Barton) April 26, 2016
Families and friends embraced outside the court as the verdict was announced by loudspeakers while crowds in the streets spontaneously applauded.
The jury's conclusions
Police errors caused a dangerous situation at the turnstiles
Failures by commanding officers caused a crush on the terraces
There were mistakes in the police control box over the order to open the Leppings Lane end exit gates
Defects at the stadium contributed the disaster
There was an error in the safety certification of the Hillsborough stadium
Police delayed declaring a major incident
The emergency response including the ambulance service was also delayed
South Yorkshire's chief constable, David Crompton, unreservedly apologised to the families and said he "unequivocally accepts" the verdict.
He said: "The Hillsborough Disaster changed the way in which major sporting events are policed and very many lessons have been learnt. Today, with improvements in training, communications and technology, it is almost impossible to consider how the same set of circumstances could arise again today. We will now take time to carefully reflect on the implications of the verdicts.
"We recognise that this is an important day for the families of those who died at the Hillsborough Disaster and for everyone affected by what happened. They have waited 27 years for this outcome. Our thoughts are with them."
The Crown Prosecution Service said it will consider whether criminal charges should be brought to any individuals or corporate bodies based on the evidence.