Outrage at call for secular Turkey to adopt a 'religious' constitution
Comments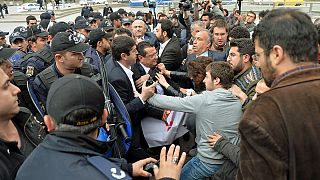 Police clashed with protesters outside Turkey's parliament on Tuesday, amid outrage at a call for the secular country to adopt a religious constitution.
Demonstrators gathered in Ankara to express their fury at the controversial proposal from
parliamentary speaker Ismail Kahraman, a leading member of the ruling Islamist-rooted AK party.
Security forces broke up the rally. Dozens of people were detained.
Kahraman's call for a religious constitution contradicts the founding principles of the modern republic.
"For one thing, the new constitution should not have secularism," he said late on Monday.
"There are three countries in the world with secularism in their constitution – France, Ireland and Turkey…
Our constitution should not avoid the concept of a religious constitution. It should discuss religion."
Parliament speaker's call to remove secularism from Turkey's constitution sparks outrage https://t.co/cDINTRpklTpic.twitter.com/mTqvInkhj3

— Hürriyet Daily News (@HDNER) 26 avril 2016
Critics fear a new charter could put too much power in the hands of President Recep Tayyip Erdogan, who wants an executive presidency to replace the current parliamentary system.
His AK party has distanced itself from the comments of the speaker, who now says they were "personal views" and that the new constitution should guarantee religious freedoms.
His remarks however – and the reaction they provoked – highlight a schism in Turkish society dating back to the 1920s when Mustafa Kemal Ataturk forged a secular republic from the ruins of an Ottoman theocracy.
President Erdogan and the ruling AK Party he founded, have tried to restore the role of religion in public life, expanding religious education and allowing the head scarf, once banned from state offices, to be worn in colleges and parliament.
The AKP is pushing to replace the existing constitution, which dates back to the period after a 1980 military coup. As speaker, Kahraman is overseeing efforts to draft a new text.
NATO member Turkey, which aspires to join the European Union, has long been touted by its Western partners as a model secular, democratic nation with a majority Muslim population.