Olympic torch lights up refugee camp
Comments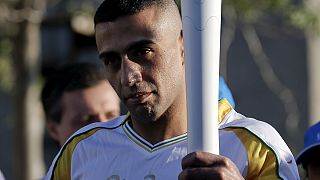 The Olympic flame was taken through the Eleonas refugee camp in Athens on Tuesday to highlight the plight of over one million people who have fled their homes for Europe since last year.
Syrian amputee swimmer Ibrahim al-Hussein was chosen to run with the torch through the camp.
The torch was lit in Ancient Olympia in Southern Greece last Thursday.
It will be handed over to Brazilian officials on Wednesday before beginning its 100-day relay across the first south American country to host the Olympics.