ESA successfully launches "environment data" satellite
Comments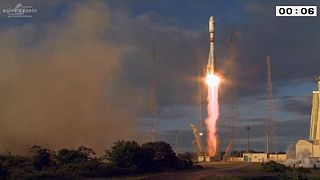 A Russian Soyuz rocket has blasted off from Kourou in French Guiana carrying a satellite aimed at increasing our understanding of the environment.
Sentinel-1B will be joining its identical twin Sentinal-1A, launched two years ago, collecting data for civil and humanitarian purposes. It is part of the Copernicus Environmental Satellite Programme.
Watch the video of the #sentinel 1B launch. Sentinel 1A just welcomed its twin Sentinel 1B in space. https://t.co/nEUPeK8ina

— Copernicus EU (@CopernicusEU) April 25, 2016
Volker Liebig, Director of Earth Observation Programmes for the European Space Agency (ESA) explained how vital the data recovered could be:
"There is a lot of applications which has to do for example with detecting landslides, inundations, ground movements, this brings me also to the emergency services, we support all these type of emergencies. When there is an earthquake we can make maps of the ground movements, before and after. We can look at ice maps for drifting ice which might endanger shipping. Oil spills can be observed very well with radar."
Each SENTINEL satellite is expected to transmit Earth observation data for at least the next seven years.