Australian offshore detention of asylum seekers 'illegal' rules court
Comments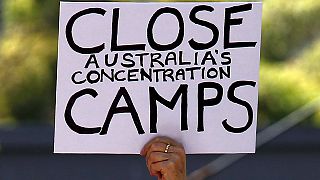 Papua New Guinea's Supreme Court has ruled that Australia's practice of detaining asylum seekers on Manus Island is illegal and must stop.
Under Australia's immigration laws, people intercepted while trying to reach the country by boat are sent for processing to camps in Nauru and Manus Island and are never eligible to be resettled in Australia.
Richard Di Natale, the leader fo the Australian Greens party said: "The Australian Greens welcome the announcement by the Supreme Court of PNG. We now know once and for all that it's not the actions of those innocent asylum seekers who are coming to us seeking protection that's illegal, it is in fact the actions of the Australian Government."
Australia's minister for immigration said the ruling would not change its policy of offshore detention.
The detention centre on Nauru has been widely criticised by the United Nations for reportedly harsh conditions and reports of systemic child abuse.