US Republicans Cruz and Kasich unite to stop Trump
Comments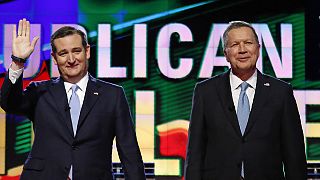 US Republican presidential hopefuls John Kasich and Ted Cruz are uniting to block front-runner Donald Trump from winning the party's nomination.
The pair say they've agreed a deal to stay out of each other's way in some upcoming state primaries.
In a statement Cruz said he will focus on Indiana to give Kasich a clearer shot in Oregon and New Mexico, states where the Ohio governor expects to do well. Kasich, in turn, has pledged to shift resources west and away from Indiana.
Addressing his supporters Cruz said: "65 to 70 percent of Republicans nationally understand that Donald Trump is not the best candidate to go head to head with Hillary Clinton. That if we nominate Donald Trump, Hillary wins and she wins by double digits."
Some Republican strategists have been calling for such a deal for week and it's feared the agreement may be too late.
Trump has won the most state nominating contests but he still has a difficult path to earn the 1,237 delegates needed to secure the nomination.