Moldova: anti-government protests continue
Comments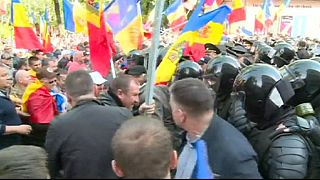 Around 1,000 demonstrators clashed with Moldovan riot police on Sunday in a further escalation of anti-government protests. They are against what they see as corruption and the power of oligarchs.
The appointment of a new prime minister with ties to one of Moldova's richest men has angered opposition lawmakers and voters alike.
A decision in March to allow the next president to be chosen in national elections rather than a vote in parliament has failed to appease protesters.
Continued anti-#government#protests in #Chisinau, #Moldova today pic.twitter.com/kBNgCvItyP

— Alex Kokcharov (@AlexKokcharov) April 24, 2016