Mexico's government accused of blocking probe into massacred students
Comments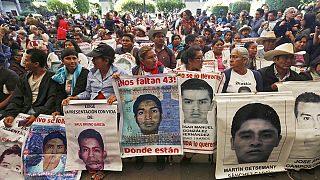 A panel of international experts has accused Mexico's government of obstructing an investigation into the fate of 43 trainee teachers believed massacred in 2014.
They said they had been blocked from re-interviewing suspects, investigations had not been followed up and there had been delays in gathering evidence.
The panel which has handed over a report, has now left the country. It was commissioned by the Inter-American Commission on Human Rights (IACHR).
The case of the missing students amount to Mexico's most notorious human rights case in recent years. It has drawn international attention in a country where violence has surged in a decade-long drug war.
Mexico's government says that corrupt police in 2014 handed the student teachers in the southwestern city of Iguala over to drug gang henchmen, who believed the trainees had been infiltrated by a rival gang. They then incinerated them at a rubbish dump in the nearby state of Guerrero.