Jordan's Queen Rania questions EU migration deal with Turkey
Comments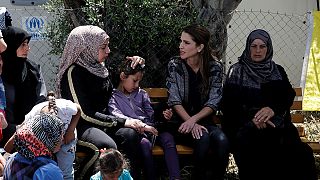 More than 300 migrants have been rescued from boats in the Mediterranean by the medical charity Médecins Sans Frontières.
The group have been taken to the Sicilian port of Pozzallo. Italian authorities say some 24,000 migrants and refugees have arrived since the start of the year. Four times the number for the same period in 2015.
Visiting the Greek island of Lesbos, Jordan's Queen Rania questioned the EU migration deal that sees refugees and migrants returned to Turkey if they can't claim asylum in Europe.
"The responsibility for this crisis can not be defined by geography. And I believe that we have to bring humanity and compassion back into the narrative," said Queen Rania. "Because at the end of the day, this is a crisis about human beings – not about borders and barriers. It is about human dignity – not about deals."
But the Queen's feelings aren't seemingly shared by Hungarian and Austrian authorities which have stepped up a so-called green border. The temporary police control, backed by more than 700 soldiers, is meant to stop increasing human trafficking. It's unclear when the measure will end.