Merkel backs Turkey's idea of 'safe zones' for refugees in Syria
Comments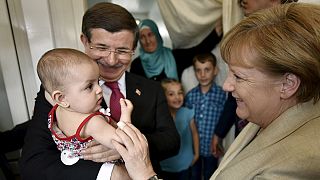 The Turkish prime minister Ahmet Davutoglu took German Chancellor Angela Merkel and EU Council president Donald Tusk on a tour of a refugee camp on saturday.
Nizip camp in the Turkish city of Gaziantep, close to the border with Syria, is home to some 5,000 Syrian refugees.
The visit came as both sides seek to bolster the EU-Turkey deal on migrants.
Germany is now backing Turkey's idea of 'safe zones' for refugees in Syria along the Turkish border.
At a press conference, Merkel told reporters: "Such areas can easily be identified near the Turkish-Syrian border and we have advocated that a lot of effort be invested in this. The safer people feel, the less they need to leave their homeland. That's why we believe this to be very important."
The UN and aid agencies have previously warned against the so-called' safe zones' saying the safety of refugees could not be guaranteed.
Davutoglu also took the opportunity to remind the EU that visa liberalisation for Turkish citizens was a vital part of the migrant deal.