Logunova claims first GP win of the season
Comments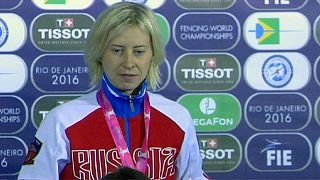 Russia tasted success at the Rio Olympic venue for fencing this week although there was no Olympic gold on offer.
Russia's Tatiana Logunova upset the odds to beat world number one Xu Anqi of China to claim the women's individual épée title at the Rio Grand Prix, which doubles as fencing's Olympic test event.
Unfortunately for the fans there was no scoring in the first two rounds of the final.
In fact the showpiece match of the first female epee Grand Prix of the season effectively started in the third and final round.
35-year-old Logunova – a two time Olympic team gold medallist – struck her fifth point with just over one second remaining.
At 5-3 up Logunova made sure there was no time left for Xu to score, which left her celebrating a first Grand Prix title of the season.