Frustration in Nepal as 'aid remains unspent,' one year after deadly quakes
Comments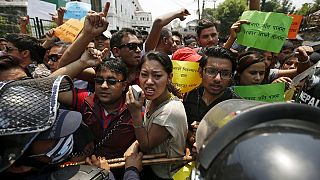 One year on from the first of two devastating earthquakes in Nepal feelings of frustration, disappointment and despair are evident.
As MPs took part in a memorial ceremony in Kathmandu, a group of around 100 protesters rallied against what they perceive as inaction by the government in the wake of the catastrophe.
More than 9,000 people were killed in the magnitude-7.8 and 7.3 quakes, which occurred within 17 days of each other.
Millions more were left homeless. Aid groups report around one in seven people are still living in temporary accommodation, 12 months after the disaster.
According to the Red Cross, political quarreling means 4.1 billion dollars of international aid earmarked for construction remains unspent.
A period of three days of mourning has been designated to remember those who perished.
In pictures
Thanks to @artinfodotcom for helping "Endurance" my new book about #NepalEarthquakehttps://t.co/xF1nHDNcMrpic.twitter.com/Ht4NuKdvRJ

— Omar Havana (@OmarHavana) April 7, 2016
#NepalEarthquake 1 year: We've helped +480,000 people with life-preserving aid: https://t.co/qq8Im52EgPpic.twitter.com/nrk3jiE5RX

— Oxfam International (@Oxfam) April 24, 2016
One year of #NepalEarthquake: PM KP Sharma Oli pays tribute to victims https://t.co/NxBPQDOIDPpic.twitter.com/3yejU08Jye

— dna (@dna) April 24, 2016
When the going gets tough, tough get going! How WFP moved mountains after #NepalEarthquakehttps://t.co/K3DrZXoWZxpic.twitter.com/5Za93esbHK

— World Food Programme (@WFP) April 24, 2016
#TBT to #NepalEarthquake last yr when our Remote Access Operation (RAO) moved mountains to reach those in need! pic.twitter.com/1gHDwPh7bN

— World Food Programme (@WFP) April 14, 2016