Obama urges young Britons to reject isolationism and xenophobia
Comments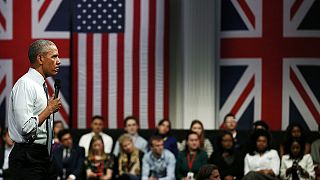 Barack Obama called on young Britons to reject xenophobia and not to pull back from the world on Saturday, a day after warning the UK about the risks of voting to leave the EU.
The US President was given a rock star welcome by more than 500 young British people at a 'town hall' style question and answer event in London.
"We see new calls for isolationism, for xenophobia," Obama said.
"When I speak to young people, I implore them, and I implore you, to reject those calls to pull back."
"I am here to ask you to reject the notion we are gripped by forces that we cannot control. And I want you to take a longer and more optimistic view of history."
. @POTUS speaking with young leaders at Lindley Hall in London this morning. #ObamaInUKpic.twitter.com/JLzXm8mVmn

— U.S. Embassy London (@USAinUK) 23 avril 2016
The stage is set! #ObamaInUKpic.twitter.com/oYpcDXYMqt

— U.S. Embassy London (@USAinUK) 23 avril 2016
He developed the theme during a question and answer session.
"Because things are changing so fast, there's a temptation to forge identities, tribal identities, that give you a sense of certainty, a buffer against change and that is something that our young people…we have to fight against," Obama told the audience.
"The forces that lead to the most violence and the most injustice typically spring out of people saying: 'I want to feel important by dividing the world into us and them.'"
Britain's June referendum on its EU membership was not raised but, on Friday, Obama warned that should the UK leave, it would be at the back of the queue for a trade deal with the United States.
Earlier on Saturday he visited The Globe theatre in London – a replica of Shakespeare's open-air playhouse – and was treated to some of the magic of England's greatest playwright on the 400th anniversary of his death.
With the sun illuminating the theatre's wooden stage through the open roof, Obama was treated to a 10-minute private performance of scenes from Hamlet.
We're thrilled that US President Barack Obama @POTUS visited us today: https://t.co/MNYV1ULINL#ShakespeareLivespic.twitter.com/Xuu8V7v3kg

— Shakespeare's Globe (@The_Globe) 23 avril 2016
"That was wonderful. I don't want it to stop," Obama said of the tale of the melancholy prince before shaking hands with the actors.
The Globe is London's best-loved monument to the Bard, famous for its open-air performances.