Iranian climber's World Cup dream comes true
Comments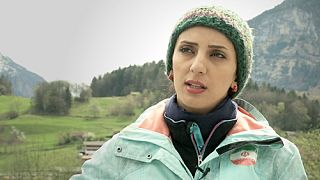 This year Elnaz Rekabi rewrote the climbing history books whilst fulfilling one of her lifetime ambitions.
The 26-year-old has become the first Iranian female to compete full-time on the IFSC World Cup.
Already a recognised bouldering talent in her native Iran and across Asia, Rekabi has previously struggled to break onto the global scene.
With no national federation for support, financing her own career and overcoming gender discrimination has proved difficult.
Rekabi said: ''My friends congratulate me and encourage me to continue. But it is true that every time people ask me about what I do they are stunned. A female climber? But on a positive note it does help other girls to come out and practice this sport.''
Rekabi has dominated the sport at home but becoming one of the world's best is proving a tough challenge.
''One of my biggest problems is that I have to train on my own. There are no home female climbers better than me and I am not allowed to train with men,'' said the Tehran native.
Another obstacle that sometimes gets in the way of her climbing is the hijab – an obligatory head veil worn by some Muslim women.
Rekabi, however, is trying to work around it without compromising her religious belief.
Rekabi: ''At the beginning it was a little bizarre for the other athletes, who were curious about a girl wearing a scarf on her head and an outfit that covered the arms and legs whilst competing inside in such a hot temperature. For sure when its hot the hijab becomes a problem. During competition your body needs to evacuate the heat. But we have tried to create an outfit ourselves that respects the hijab and is compatible with practicing the sport of climbing.''
Christophe Billon from the governing body, the IFSC believes banning the hijab from competition would be counter-productive for the sport.
He said: ''We know that Iranian women have to wear the hijab. We accept this because it is also important to have Iranian women in our competitions. If we said 'no you can not participate in our competitions because you are wearing a veil' it would be damaging to our sport.''
Sport Climbing is one of the eight sports shortlisted for the Tokyo 2020 Olympic Games additional events.
Billon believes climbing deserves to be on the Olympic programme.
He said: '' We have nothing to be envious of from the other disciplines. Our athletes are serious, train hard and practice a real sport. We are a sport that is totally ready to be promoted globally. We are keen to show off our sport and share our passion for this activity.''
The thought of becoming an Olympian is a dream for most athletes. Rekabi is no different and is highly motivated to get to Tokyo.
She said: ''I am doing everything I can to make it there and in my best form. In the meantime I am trying to just raise the money myself to compete in the World Cups. I believe I can fulfill my dreams.''
Rebaki's first competition on the World Cup circuit took place in Meiringen, Switzerland where she placed joint 51st behind eventual winner Shauna Coxsey of Great Britain.