WADA suspends China's only anti-doping laboratory for recording erroneous results
Comments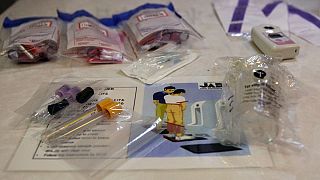 The World Anti-Doping Agency (WADA) late on Thursday suspended the accreditation of Beijing's national anti-doping laboratory after it failed to register two positive doping samples.
The laboratory's suspension, which lasts for a maximum of four months, prevents China's only drug testing facility from carrying out doping analyses on blood and urine samples unless an appeal is submitted to the Court of Arbitration for Sport (CAS) within the next 21 days.
"The suspension, which takes effect immediately, prohibits the laboratory from carrying out any WADA-related anti-doping activities," WADA said in a statement. "During the period of suspension, samples are required to be transported securely to another WADA-accredited laboratory."
WADA did not specify the reasons for the ban, but the development comes off the back of a WADA probe into doping in Chinese swimming, while the Chinese national anti-doping agency (CHINADA) said the laboratory submitted "two false negative results" during blind tests last year.
It is understood the false recordings arose from "technical errors" because the laboratory had not yet updated testing methods to conform with the stringent requirements of WADA, though there was also an element of negligence.
The laboratory can apply for reinstatement during the four months, according to WADA, if it takes up remedial steps to correct the issues of "non-conformities."
"At present, the laboratory is undergoing a complete review and improvement of its detection methods, in order to meet WADA's latest requirements," said a statement from the laboratory posted on CHINADA's website.
The suspension is the latest controversy to hit Chinese doping in sport. British newspaper The Times alleged in an investigation last month that Chinese swimming had covered up positive drugs tests ahead of Olympic trials for the Rio de Janeiro Games to avoid a "storm".
CHINADA denied the existence of a cover up and said they needed to test the backup 'B' samples before a conclusive decision could be taken.
The report, however, still prompted a WADA investigation into the allegations, while the Chinese Swimming Association announced it had issued a "warning penalty" to three swimmers who tested positive for the banned substance Clenbuterol.
CHINADA previously came under scrutiny after it emerged in 2014 that Olympic champion Sun Yang had served in secret a three month doping suspension for a drug which normally carries a ban of two years.
Separately, WADA last Friday revoked the accreditation of the scandal-hit Moscow anti-doping laboratory on the recommendation of a WADA independent commission which detailed systematic, state-sponsored doping in Russian athletics.
Russian athletics was subsequently handed a ban from all international competition by track and field's governing body, the IAAF. Russia will learn in June if it can send its athletes to this summer's Rio Olympics.