Drought-hit Venezuela faces daily power cuts to save energy
Comments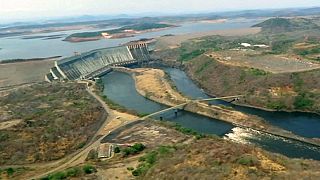 Venezuela has announced power cuts from next week – plunging people into darkness for four hours each day as the crisis-hit country grapples with a drought that has limited energy production.
Most of its electricity comes from the massive Guri hydroelectric dam. But its reservoir has reached historic lows, with the rainy season delayed by the El Nino weather phenomenon.
"We will continue to provide a service to the Venezuelan people. There will be restrictions. It is necessary. It's a sacrifice," said Venezuelan Electricity Minister Luis Motta.
He said the measure would help raise the level of the reservoir and promised "careful administration" of the dam.
Power cuts will rotate among different hours during different four-hour periods for 40 days starting on Monday, Motta said.
The crucial oil sector is expected to be exempt from the cuts.
It follows the announcement that Venezuela's time zone would also be modified to save power.
Venezuela to shift times zones to save power amid energy crisis https://t.co/2frKTjFhk3

— Daily Mail Online (@MailOnline) 16 avril 2016
The drought is another blow for Venezuelans – struggling with shortages of basic goods as the economy suffers the effects of the fall in the price of oil – the main export of a country also ravaged by deep political tensions as the opposition seeks to unseat socialist President Nicolas Maduro.
The opposition, which dominates parliament, rejects El Nino as the sole explanation for the power problems,accusing the government of failing to invest in alternative forms of power generation.
Maduro says his government is the victim of an "economic war" led by political adversaries with the support of Washington.