Music world in shock as Prince dies suddenly aged 57
Comments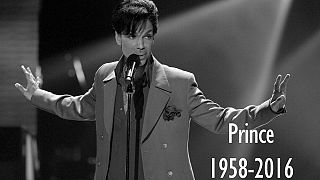 The music world has been stunned by the shock news of Prince's sudden death aged 57 at his home recording studio.
His early work struggled to capture the "Prince sound", but this was an instant classic, that spanky bassline oozing sex. "Controversy" was his first hit
It cuts short a prolific music career that started with him as a teenager somehow talking his way into a record contract with Warners where, as an unknown, he was unprecedentedly given total control.
By "1999" he was already starting to explore psychedelics and the double album showed he was keen to plug into a white audience via pop-rock influences, very clear on hit single "Little Red Corvette"
"Kiss" was just one of several planetary hits in the 80s and 90s which established him as an artist everyone wanted to hear, and play with. The self-announced musical genius could play anything, could compose, and drive a recording studio as well. He produced movies, generously supported other artists with songs, and was so prolific with such a workrate there are probably thousands of hours of unreleased material waiting to be issued.
The year "Kiss" came out it was THE song everyone talked about. Instantly covered by everyone, including this little-known UK outfit. Prince has been very protective of his songs, and purged most from the web, legally enforcing the embargo, so this is why clips of him performing or the promotional videos of the time are so hard to find…
Some of his songs immediately became classics and were instantly covered by other artists such as Miles Davis, Cindy Lauper, Tom Jones or Sinead O'Connor. "When Doves Cry" is an international favourite at weddings and funerals, a power ballad that almost defines the 1980s on its own.
Miles was a huge admirer of Prince, and saw in him the reincarnation of several stars, combining all their qualities
As a personality Prince was painfully shy but a beast on stage: as a mixed-race Latino African-American with white blood he was never going to fit in anywhere and so had to be larger than life, and his unashamed sexuality added to a dangerous, unbridled image that at first shocked and repelled before it was embraced by an adoring public.
In this song Prince charmingly offers his girl masturbation on the first date, as you do when you're a sex-crazed midget musical genius with Rasputin's appetite for the pleasures of the flesh…
Above all, Prince knew how to funk, and funk bad, slotting into the tradition of James Brown, Sly Stone, George Clinton and Rick James, an irresistible force on the dance floor
and the popular culture of the time.
With "Sign of the Times" Prince did it again, writing the song of the year, and again showing that sometimes less is more. This was stripped-back, hardly produced at all, with words that cut as deep as "Desolation Row"'s more than two decades previously
"Cream" showed he could also write an out-and-out pop hit, too