Obama arrives in Saudi Arabia amid US 'terror bill' debate
Comments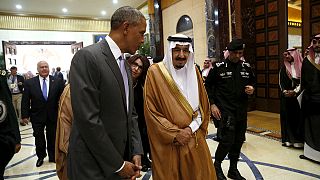 US President Barack Obama arrived in Riyadh on Wednesday (April 20) to meet Saudi King Salman.
They will attend a summit with leaders from nations in the Gulf Cooperation Council (GCC).
The summit, focusing on stability, counter-terrorism and Iran, was due to open on Thursday. The United Arab Emirates, Qatar, Kuwait, Oman and Bahrain are also attending.
Many GCC leaders see Tehran as a threat to their security and say its involvement with Iraq, Syria, Lebanon and Yemen has fuelled conflict and deepened divisions.
Justice Against Sponsors of Terror' bill
Obama's visit comes amid a debate in the US over a Senate bill that, if passed, would allow Americans to sue the government of Saudi Arabia over the attacks in the US on September 11, 2001.
The 'Justice Against Sponsors of Terror' bill has already passed the Senate Judiciary Committee, but has not been scheduled for debate in the full Senate or the House of Representatives.
Secret US material on 9/11 being reviewed. https://t.co/tJ5sPaKEe1#September11#UnitedStates#7Newspic.twitter.com/KWPeHiEZ4n

— 7 News Sydney (@7NewsSydney) April 19, 2016
.Judgenap</a> on the <a href="https://twitter.com/hashtag/28Pages?src=hash">#28Pages</a> that haven&#39;t been released on the <a href="https://twitter.com/hashtag/September11?src=hash">#September11</a> attacks. <a href="https://twitter.com/DeirdreBolton">DeirdreBoltonFoxBusiness</a> <a href="https://t.co/WCWQKZJoP7">pic.twitter.com/WCWQKZJoP7</a></p>&mdash; Risk & Reward (RiskRewardFBN) April 20, 2016