Kuwait oil workers end strike, crude prices fall
Comments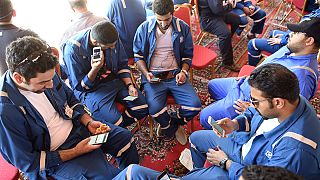 Oil prices slipped again on Wednesday as energy workers in Kuwait ended a three-day strike that had cut the country's production of crude by nearly half.
The union involved said they were calling off the industrial action after Kuwait's oil minister ruled out negotiating with them until the strike ended.
"In honour of his highness the Emir … we have decided the following. First, the cancellation of the general strike and the attendance of all oil sector workers at their places of work beginning at seven in the morning on Wednesday 20 April 2016," the Oil & Petrochemicals Industries Workers Confederation wrote.
The union further pledged "to make every effort to immediately return production to its previous level".
In reaction Brent crude fell 2.8 percent at one stage.
The walk out was over fears of cuts in pay and benefits and layoffs by the government as part of an overhaul of the payroll system in the public sector.
Production is set to return to normal – almost three million barrels a day – according to the Kuwait Petroleum Corporation.
Non-Kuwaiti oil workers were not involved in the strike.