Michel Temer: the vice president emerging from Rousseff's shadow
Comments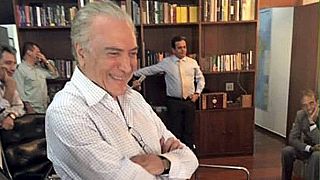 Michel Temer became Brazil's Vice President in 2011. Quietly known by political allies and enemies alike as "The Butler" because of his manners and dress, he has been in the shadow of President Dilma Rousseff.
Temer was born in Sao Paulo state, the son of Lebanese immigrants. Now 75, he is married to his second wife Marcela, a former beauty pageant contestant 43 years his junior.
Cutting support for Rousseff's government
As vice president, Temer has mostly been relegated to rallying support in Congress and ensuring his party's support for Rousseff's agenda.
His party is the fractious Brazilian Democratic Movement Party – or PMDB – and it holds more Congressional seats than any other.
With her popularity plummeting, Temer put his relationship with Rousseff on ice in December.
In a personal letter, he complained about being sidelined and taken for granted.
His party withdrew its support for the government.
"From today, following this historic meeting for the PMDB, the PMDB withdraws its support for the government of Dilma Rousseff," said Romero Juca, First Vice-President of PMDB, announcing the move.
'Attempted coup'
Rousseff has accused Temer of orchestrating a conspiracy to topple her after an audio message sent by him to his supporters called for a government of national unity, to overcome Brazil's political crisis.
Temer said the release was unintentional, but added that he supports multi-party talks to pull the nation ahead.
"I will be prepared because dialogue is precisely what underscores my activity. It is not that I am able to resolve problems by myself, but I know that through the power of dialogue, collectively, with all the parties and with several sectors of society, we will get the country out of this crisis," said Temer.
Rousseff has not mentioned Temer by name, but has cited the audio message as evidence of what she's called an attempted "coup."
"Yesterday it was clear that there are two leaders of the coup that are acting together and in a premeditated way," said Rousseff.
What next?
Temer would serve out Rousseff's term until 2018, if she is ousted. But he has little popular support and would face a daunting task of restoring confidence in a country where dozens of political leaders are under investigation for corruption.
A supreme court judge has also ruled that Temer must face impeachment proceedings too. His fate is being put in the spotlight because he is being accused of the same charges as Rousseff.