Brazil: Rousseff fights but impeachment tide rises
Comments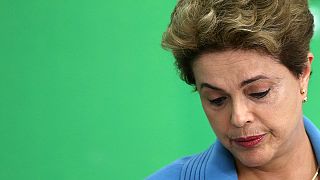 Dilma Rousseff, the embattled Brazilian president facing possible impeachment on corruption charges, has fired back at her critics for staging what she called a "coup", and mocked the idea that she be held single-handedly responsible for the country's worst economic crisis in years.
That began in 2009, before she became president, she reminded her audience. And she went further.
"If the argument that leading during an economic crisis was a reason to remove Presidents of Republics, there would not be a single President of the Republic in any of the developed countries," she smiled, speaking to the nation on TV.
But Rousseff may not survive. Parliament's lower house voted on Sunday to impeach, and the upper house is likely to follow suit. Many commentators say she is paying the price for her relative lack of charisma, and is taking the blame for others' errors. Others say a woman leader has always been too much for a certain sort of Brazilian.
Astonishingly among all the grandstanding among parliamentarians giving their reasons for voting to topple Rousseff, hardly any cited corruption or making Brazil's politics cleaner, ostensibly the whole reason for the exercise.
All the alternative presidents poll just as badly, or worse than Rousseff, and face criminal corruption investigations of their own. With about one-third of all parliamentary members from all parties facing corruption charges or inquiries, the Brazilian public is thoroughly fed up with its political elite.