Jerusalem fears return of dark days of bombings
Comments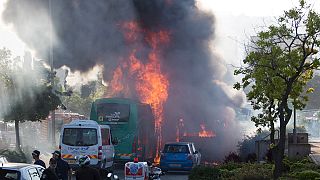 After a period when Jerusalem commuters were again at ease with public transport that had been targeted in suicide attacks in the past, people went to work on Tuesday with the fear that violence had returned.
Monday's small bomb killed no-one, but public confidence has been hit hard.
"This morning, like everybody else in Jerusalem, I'm afraid. The buses aren't safe again, there's a problem but I think this is common to me and to my Arab neighbours as well. We're all afraid," said Micha, a resident.
"There were more explosions before in Jerusalem but there were less in the last few years. I think it's bad that it's happening again and it makes me more safety-minded," said Avraham, another local.
Palestinian suicide bombers at the start of the century targeted buses, bus stops and transport hubs and crowded public areas, until Israel clamped down hard on security and began building its as-yet uncompleted wall dividing the Arab east from Jewish west of the city.