Egyptian police officer shoots man dead over a cup of tea
Comments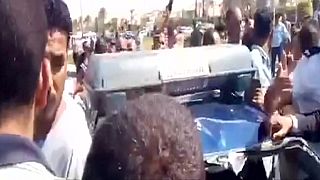 A police officer has been arrested in Egypt allegedly for shooting one man dead and injuring two others reportedly after an argument over a cup of tea.
A riot erupted in the Cairo suburb after the incident, and a furious crowd attacked the officer and his colleagues' car, trapping one inside as the crowd surrounded the shooter and threatened him with rough justice.
When more officers arrived the police officer was arrested, and the public appeased. However Egypt's police have a poor reputation for corruption and violence and there has been a spate of public accusations against police abuses of power in recent months leading to sometimes violent protests.
In Egypt's 2011 revolution the police ministry was a particular target for protesters' anger.