Clinton and Trump battle it out on home turf in New York primaries
Comments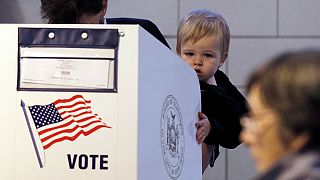 The road to the US presidential nominations has led to New York, with Democrat Hillary Clinton and Republican Donald Trump each billed to win on home turf.
Hillary Clinton
Clinton, the former senator of New York, is the party frontrunner. But after losing seven out of the last eight contests, she'll need a convincing win to consolidate her lead.
"I love New York. And this has been a joy during the last two weeks, to be here all over the state," she said.
A win for Clinton in New York could spell disaster for her rival, Brooklyn-born Bernie Sanders.
Sanders will need a strong win in the state, where 291 delegates to July's Democratic convention are at stake.
Donald Trump
Opinion polls suggest first-time candidate Trump has a double-digit lead in New York.
"It's a proud moment, it's a great moment and who would have thought and it's just an honor, and my whole reason for doing this is to make America great again," he told the press.
Trump's closest challenger, Ted Cruz is placing last in New York, according to opinion polls. 95 delegates are up for grabs in the winner-takes-all Republican vote.
History, in addition to polls and voter-registration records, indicates a strong tilt in favour of the Democrats in the northeast corridor.
New York currently has 5.8 million registered Democrats and 2.7 million Republicans, according to state records.