Trump and Clinton see each other as main obstacle to the White House
Comments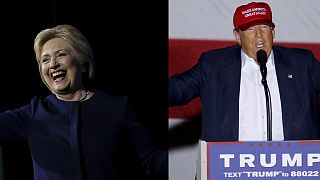 Controversial candidate Donald Trump is leading the polls in all but one of the five states set to hold presidential nominating contests on Tuesday. Only in Ohio is the fight tight, that's where he and Governor John Kasich are polling neck and neck.
The unorthodox Republican is hoping to cement his lead over his remaining rivals while at the same time taking his campaign one step further by attacking Democrat front runner Hillary Clinton.
"I'm a better person than the people I'm running against, that I can tell you. And I'm a better person than Hillary. Hillary is not good," said Trump at rally of his supporters.
Trump's main Republican rival now appears to be Texas Senator Ted Cruz who is trailing in second across several of the states but is emerging in the minds of non-Trump voters as an alternative candidate .
But for Senator Marco Rubio Tuesday could be make or break time.He's polling in third in his own home state of Florida where for the first time in the 2016 nomination race it's winner takes all Republican delegates.
Meanwhile Hillary Clinton also has her eyes on the finish line directing her focus towards Trump.
"It's not enough if you want to be President of our country to tell people what you're against, to point fingers, to scapegoat, to blame. We are a country that lives on hope and opportunity and making the future better, than today and yesterday."
For Bernie Sanders the race for the Democratic nomination is certainly not over . He's hoping a large turnout will give him Missouri and narrow the gap with Clinton.
States voting on March 15
Florida primary – 246 Democratic delegates, 99 Republican
Illinois primary – 182 Democratic delegates, 69 Republican
Missouri primary – 84 Democratic delegates, 52 Republican
North Carolina primary – 121 Democratic delegates, 72 Republican
Northern Mariana Islands Republican caucus primary – 9 delegates
Ohio primary – 159 Democratic delegates, 66 Republican