Fans shocked after AC/DC confirms Axl Rose as its new singer
Comments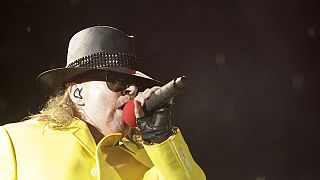 AC/DC has made it official, Guns N' Roses frontman, Axl Rose, will help complete the remaining part of their Rock or Bust tour. Rose will be on vocals for the European leg of the tour, as well as the 10 postponed US shows that will be rescheduled at later date.
AC/DC will resume the #RockOrBust World Tour w/ Axl Rose joining on vocals. All updated tour dates can be found here https://t.co/jshRD4pBV7

— AC/DC (@acdc) 17 April 2016
Rose will be filling in for Brian Johnson, who was unable to continue the tour because he is suffering from hearing loss.
Rose only tweeted a mysterious lightning bolt.
_ _ ⚡️_ _

— Axl Rose (@axlrose) 17 de abril de 2016
The reactions from AC/DC fans about Johnson's replacement have been mixed:
. axlrose</a> and I discussed this last Friday in Vegas. Now it&#39;s out. Congrats Axl. This is a dream scenario for him <a href="https://t.co/7ZHvXIQAky">https://t.co/7ZHvXIQAky</a></p>&mdash; Eddie Trunk (EddieTrunk) 17 April 2016
acdc</a> Only thing worse than replacing Brian Johnson? Replacing him with Axl.</p>&mdash; Anthony Bialy (AnthonyBialy) 17 April 2016
Can't wait for Axl Rose to replace posh spice on the Spice Girls reunion tour.

— Hev (@AlohaHev) 17 April 2016
Axl Rose to be the new front-man of AC/DC? Seriously? Stop the planet, I want to get off. pic.twitter.com/kyzwwsijef

— Alex Kühne (@alex_kuhne) April 18, 2016
Axl singing with AC/DC? Sounds fun if you ask me!! Replacing Brian Johnson? Never, they're just playing dates to avoid massive refunds!

— Jeff Scott Soto (@jeffscottsoto) 17 April 2016
Just woke from this weird dream, where we can now go to a double dissolution election to vote Axl Rose out of AC/DC.

— Michael Keating (@D_Keating) April 18, 2016
Well, fans can actually vote:
AXL/DC: Will AC/DC with Axl Rose be a "Stairway to Heaven" or a "Highway to Hell?" #ACDC#AxlRosepic.twitter.com/8Hw8B5fop4

—

BOATY

MCBOATFACE

!!! (@LouBrutus) April 18, 2016
Some speculated about the possibility of mixing together songs from both bands:
Axl Rose cantará highway to paradise city??

— adria espi (@adriaespi) April 18, 2016
axlrose</a> + <a href="https://twitter.com/acdc">acdc = Welcome To Hell!. \../,

— Ralph (@ESTRAANGEED) April 18, 2016
Singer Axl Rose to join AC/DC "Rock or Bust" world tour

Welcome to Back in Black https://t.co/kggqZ44So1

— Mike (@Operator1975) April 18, 2016
And some even drew parallels with the current political crisis in Brazil:
Ideia diplomático-musical: Substituir a Dilma pelo Axl Rose.

— Mariana Nunes (@zarellein) April 18, 2016
O Axl Rose é mig da Dilma #impeachmentDaypic.twitter.com/J2szfqJHiG

— Patyzinha (@Patycar) April 18, 2016