Disappointment over oil supply cap failure pushes crude prices down
Comments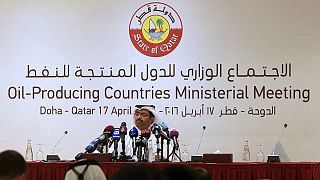 Oil price tumbled on Monday and OPEC's credibility has been seriously undermined with the failure of talks to try to freeze the production of crude.
A prospective deal involving 18 oil exporting countries fell apart when Saudi Arabia said that Iran must be a part of it. The agreement was supposed to stabilise output at January levels until October 2016.
The host for the meeting, Qatar's Energy Minister Mohammed bin Saleh al-Sada, said more time was needed: "Fundamentals are improving now and oil is heading in the right direction: how long will it [take to] balance itself, we are yet to see, but it is certainly [heading] in the right direction"
But it is not happening fast enough for the producers as the low, low prices hit their economies.
The lack of a deal does though increase the financial pressure on US shale oil producers whose increased output has been a major factor in the supply glut and price slump.
"Once again the Saudis have delivered a hammer blow to fellow producers," said David Hufton, managing director of broker PVM. "It promises to be the final nail in the coffin for those shale producers and their lenders hanging on for a short-term price reprieve."
I said 3 wks ago #Doha#FREEZE was #HOTAIR: tht #SaudiArabia royals don't care if #OIL falls to $20, death to enemy https://t.co/SXx4Zm0EvP

— M Kop (@mkopNY) April 18, 2016
Maha Barada, the euronews correspondent at the talks, concluded: "Disappointment that no deal was reached at this meeting here in Doha will mean an increase in the uncertainty on the financial markets and over oil prices. In the days before the producers' gathering speculation about a positive outcome had improved the mood."
Indeed benchmark Brent crude had reached a four-month high of just under $45 per barrel last week on hopes that the freeze deal would slow ballooning oversupply. On Monday it fell three percent, having been down almost seven percent in early trading.