Brazilian lawmakers vote in favour of President impeachment
Comments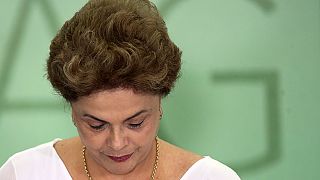 Brazilian President loses crucial impeachment vote
Opposition easily surpass two-thirds majority
Rousseff's ruling Workers Party vows to continue fight
Brazilian lawmakers have voted to back the impeachment of President Dilma Rousseff. The embattled leader failed to get the 172 votes she needed to block the move.
It is now up the the Senate to decide whether there are legal grounds to hear the case against her, a decision is expected early May.
Brazil MPs vote on President #Rousseff impeachment https://t.co/tY6h8ep4HH

— RT (@RT_com) April 18, 2016
Accusations facing Rousseff
Rousseff is accused of allegedly manipulating government accounts ahead of her reelection for a second term in October 2014.
She is alleged to have juggled public funds to make her government's economic performance appear better than it was to increase her chances of re-election to a second term.
Her critics say she violated Brazil's financial accountability laws and should be stripped of her office.
She denies any wrongdoing and says the impeachment proceedings are tantamount to a coup d'etat.
Tension on the floor of the House
The final vote in the lower house of Congress on Sunday was 367 in favour of impeachment 137 against, easily surpassing the two-thirds majority to send Rousseff for trial in the Senate.
The voting took five hours to complete and as each vote for and against was cast there were impassioned arguements and even insults hurled. One MP accused the speaker of the lower and Rousseff's arch enemy, Eduardo Cunha of being supported by the devil and of being a gangster.
A spokesperson for the ruling Workers' Party said they would take the fight to defend Rousseff to the Senate where they were confident the impeachment will be dismissed.
However critics said Sunday's vote is the beginning of the end for Rousseff, ending 13 years of of leftists Workers' Party rule.
Lawyer Wilson Ribeiro spoke to euronews saying there will be big changes on the way.
"To get the impeachment process approved the Vice President Michel Temer had to bargain a lot with the other political parties. So we will have a new majority and a big number of ministries will be cut, maybe about half."
Protests across the country
As the vote took place, thousands of pro- and anti- impeachment protesters demonstrated outside Congress and in numerous cities nationwide.
On the grassy esplanade outside Congress, a two-metre high security barrier ran for more than 1 km separating rival demonstrations, a symbol of the political rift that has emerged.
Dilma Rousseff's fate sparks protests on both sides in Brazil https://t.co/mCTZCa3jrlpic.twitter.com/rN89KHVZe3

— Wall Street Journal (@WSJ) April 17, 2016
Many Brazilians say they are fed up with the high levels of corruption in Brazilian politics. Polls suggest that more than 60 percent of Brazil's 200 million people support impeaching Rousseff, whose inner circle has been tainted by a vast corruption scandal at the state oil company Petrobras.
But with the three politicians next in line to succeed Rousseff also under investigation for either alleged mismanagement or alleged corruption, no party seems untouched by the allegations.