Rousseff asks Brazil court to halt impeachment proceedings
Comments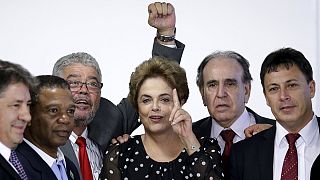 Brazil's Supreme Court upheld on Thursday (April 14) the voting order fixed by the lower house of Congress for Sunday's impeachment vote, a setback for President Dilma Rousseff, who is struggling to muster votes to block an opposition bid to remove her from office.
A majority of the justices rejected an injunction sought by the Communist Party of Brazil, a Rousseff coalition ally, to overturn the voting order decided by Speaker Eduardo Cunha, which favors impeachment by having states where anti-Rousseff sentiment predominates vote first. The court must still rule on a request by Rousseff's government to suspend Sunday's vote.
Rousseff is facing claims that she manipulated government accounts to hide a growing deficit to boost her re-election prospects in 2014.
"My expectation for the impeachment vote is that we are going to get the necessary votes to remove President Dilma Rousseff from office on the basis of the crime committed when she didn't consult Congress for the allocation and managing of state banks funds," Antonio Carlos Gomes Da Silva, Brazilian Republican Party (PRB)deputy, told euronews.
Rousseff's supporters slam the impeachment vote as a 'coup' – perhaps a sensitive topic in a country that's no stranger to military rule.
"There are two elements that leave no doubt that we are facing a 'coup' to our constitution," said Paulo Pimenta – Workers Party (PT) deputy. "The first one is that the process was started without basis. Secondly: in Brazil a president can only be impeached when the liability for a crime has been proven and there's no chance to say that the president had bad faith or the intention of committing a crime."
Euronews correspondent Pierre Le Duff is in the Brazilian capital Brasilia.
"The debates will continue in Congress until Sunday," said Le Duff. "For the moment, neither side has managed to assure enough votes to continue or stop the impeachment. [If there is not a 2/3 majority] the impeachment process will be abandoned."