Terror suspects in court in Brussels amid Abdeslam nuclear claims
Comments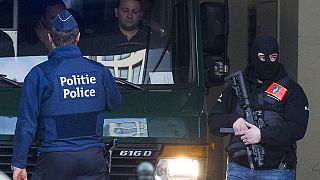 Security is extra tight in Brussels on Thursday with several suspects appearing in front of a judge, as investigations progress into the deadly terror attacks there and in Paris.
Among those in court is Mohamed Abrini, who investigators say has confessed to being the so-called 'man in the hat' who deposited a bomb at Brussels airport on March 22.
Also appearing is Osama Krayem – suspected of being seen with the Brussels metro bomber shortly before he blew himself up – and Bilal El Makhoukhi who was previously convicted for his role in Sharia 4Belgium, which recruited people to fight alongside jihadist groups in Syria and Iraq.
Last month's Brussels bombings killed 32 people. The November terror attacks in Paris left 130 people dead.
Brussels remains on edge as newspapers in Germany reported chilling claims about Salah Abdeslam, a prime suspect in the Paris attacks.
It is said the former fugitive, seen two years ago walking in the street in newly-released footage, had documents about a German nuclear research centre in his apartment in Molenbeek.
Salah Abdeslam s'informait sur un centre de recherche nucléaire allemand https://t.co/5TrXUV2aoZpic.twitter.com/2raZLJJ5be

— Le Soir (@lesoir) 14 avril 2016
Paris attacks suspect Salah Abdeslam had German nuclear files https://t.co/bx0CHvGWkg

— The Guardian (@guardian) 14 avril 2016